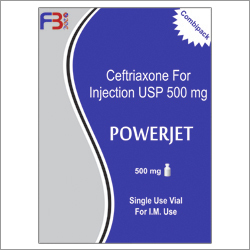 Product Description
We have gained a reputed position in the medical industry by offering to our clients a high quality Powerjet 500mg that contain Ceftriaxone which is another third-generation antibiotics are used to treat organisms that tend to be resistant to many other antibiotics. Our offered Powerjet 500mg is an antibacterial drug used to treat conditions such as skin and skin structure infections, urinary tract infections, lower respiratory tract infections, pelvic inflammatory disease, bacterial septicemia, bone and joint infections, and meningitis. These medicines are free from any side-effects, 100% safe and effective, hence widely appreciated among our clients as well as doctors.
"We are inviting inquiries only from South America, Africa, Middle East, Cih, South East Asia."
Disclaimer: Products protected under valid patents are not offered or supplied for commercial use. However, the research quantities of such products may be offered for the purpose of regulatory submissions, wherever such regulatory exemptions exist. The buyers should make their independent evaluation of the patent scenario for their respective markets and will be responsible for all patent related liabilities.

Get in touch with us